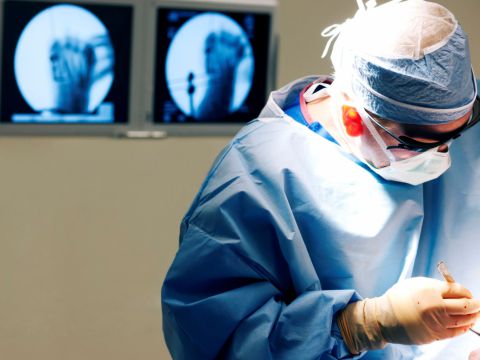 Powder-free Latex Surgical Gloves
REF: ES-SOP
Unique PRO-Fit™ design ensures an accurate fit, maximum dexterity and lesser hand fatigue
Superior Grip Performance due to textured fingertips
Extra thickness for ultimate protection during orthopaedic procedure
Hydrogel coating enhances wet donning ability
Brown color reduces glare from operating lights
AQL (Acceptance Quality Limit)
In this case, it refers to the air leak test for detection of holes, which is a critical standard for assuring surgeons that they are being protected from holes, rips or very weak areas. Our AQL 0.65 reflects a tighter quality assurance level, giving the surgeon an assured higher level of protection.
Other gloves are at least 3.5 times as likely to fail than Sentinel™ brand gloves.
Elite Surgical Sentinel™ Ortho surgical gloves feature a unique PRO-Fit™ design – a superior 3-layer design, featuring two layers of latex with hydrogel coating – that ensures an accurate and natural fit, provides maximum dexterity and results in lesser hand fatigue. Extra thickness provides extra protection during rough use in orthopaedic procedure.
The textured fingertips offers a remarkably superior grip performance enabling natural hand movement. The very low protein content – less than 50μg/dm² – ensures low levels of allergic contact dermatitis (Type IV allergy).
Made from select natural latex and offered in brown colour, Sentinel™ Optima gloves offer excellent wet donning ability, and provide optimum protection and a comfort fit throughout the surgical procedure.
Latex Wet Donning Sterile Surgical Gloves, powder-free, smooth surface, straight fingers, beaded cuff, size embossed.
| | | | | | | | | |
| --- | --- | --- | --- | --- | --- | --- | --- | --- |
| Size (mm) | 5.5 | 6.0 | 6.5 | 7.0 | 7.5 | 8.0 | 8.5 | 9.0 |
| Palm Width (mm) | 70±6 | 76±6 | 83±6 | 89±6 | 95±6 | 102±6 | 108±6 | 114±6 |
| | |
| --- | --- |
| Overall length | |
| mm | 310 ± 5 |
| inch | 12.2 ± 0.2 |
| | | | |
| --- | --- | --- | --- |
| Single Thickness | Finger | Palm | Cuff |
| mm | 0.34 ± 0.03 | 0.33 ± 0.02 | 0.30 ± 0.01 |
| mil | 13.39 ± 1.18 | 12.99 ± 1.18 | 11.89 ± 1.18 |
| | |
| --- | --- |
| Sterilisation | 25 kGy Gamma irradiation |
| Quality Standards | Conforms to ASTM D 3577, ASTM D 5712, EN455, ISO 10282 and AS/NZS 4179 Certified with CE, FDA, ASTM F 1671 |
| AQL | Pinhole AQL 1.5, 1.0, 0.65 (optional) |
| Packaging | 50 pairs/box; 6 boxes/carton |
| Shelf life | Three (3) years from date of manufacture |