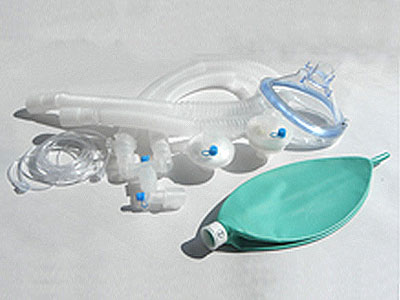 Anaesthesia Breathing Circuit
All Elite Surgical Anaesthesia Breathing Circuit systems deliver exceptional value by providing the configuration that suits your anesthesia department's specific needs. With multiple standard circuit configurations and a variety of components in both adult and paediatric sizes, regular or expandable tubing, as well as adult and paediatric coaxial circuits, Elite can provide a circuit that fits your requirements.
Elite can also create custom circuit configurations to incorporate the accessories and components for your specific procedural needs. All components of our anesthesia breathing circuits are produced in 100000 class cleaning room.
REF: ES-ABC-101
| PARTICULARS | DESCRIPTION |
| --- | --- |
| Breathing Bag Sizes | 0.5L, 1L, 2L, 3L (Available in Latex-free and Latex versions) |
| Wye Pieces | Swivel, Bifrucated, Parallel wye with / without Gas Sampling Port |
| Elbows | Plain or with Gas Sampling Port |
| Filters | BV Filter with/without Gas Sampling Port, HME, HMEF |
| Face Masks | Full range of sizes |
| Gas Sampling Lines | M/M or M/F Connector, 10 ft length |
| Plastic Clip | To be attached to expandable circuit, corrugated circuit, coaxial circuit and gas sampling line |
| Water Trap | 60 ml, for adult and paediatric |
| Circuit Styles | Adult and Paediatric Expandable |
| Circuit Length | 40″, 60″, 72″, 90″ lengths |